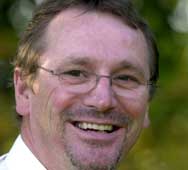 Dr David Sands and the Animal Behaviour Clinic
Dr David Sands is a human-companion animal practitioner running the Animal Behavioural Clinic based at Chorley in Lancashire. The clinic specialises in the treatment of behavioural conditions including all forms of aggression, owner-attachment (destructiveness and toileting), hyperactivity and obsessive and compulsive disorders or phobias displayed by dogs, cats, birds, horses and even exotic species.
The clinic undertakes behavioural assessment and treatment in companion animals ranging aggression (dealing with dog behaviour that falls under The Dangerous Dogs Act) and acute animal 'emotional behaviours' such as noise phobia and David is a clinical expert on the treatment of owner separation-related disorder. His treatments are drug-free and, in cases of owner-attachment issues, his clinical Behaviour Modification Program, if followed is 100% successful.
Expert Witness Temperament assessment undertaken for the authorities and Courts
Dr David Sands can assess dogs for temperament and, if appropriate, provide expert reports in order to defend pet owners in court cases.
Research
Dr David Sands is an internationally-established animal-related author and photographer, having researched 'human psychology' and zoology. David gained his doctorate in ethology (animal psychology) in 1995 for behavioural research undertaken at the Faculty of Science, Liverpool University. He is a fellow of the Canine and Feline Behaviour Association (CFBA) and a member of the Association for the Study of Animal Behaviour (ASAB).
Television
As an animal behaviourist specialist, David has been featured in a number of UK television documentaries and programmes including 'Fish People', 'Absolutely Animals', 'Pet Rescue', 'Potty about Pets' and BBC's '999'. David was a consultant and appeared in the cast of 'To The Ends Of the Earth' (Amazon) filmed for Channel 4 and Anglia Survival. He also regularly contributes to UK TV and Radio news programs on human and pet companionship subjects.
His Granada TV series based on the clinic, 'The Pet Set', registered record audiences in Northern England. David has also co-presented (and acted as a consultant) for the 2005 Animal Planet/Channel 5 series, 'Britain's Worst Pet' and recently presented an amazing documentary 'Suicide Bridge Dogs' about dogs that have died leaping off a gothic bridge in Scotland for Channel 5 (2006).
View previous television appearances at www.youtube.com/drdavidsands
Published Books
Dr Sands has scripted a number of animal information videos about the care and behaviour of small animals, dogs and cats and contributed to and written many books including: Cats and Kittens, Dogs and Puppies and, 'To The Rescue - Dogs, 'To The Rescue - Cats', unique no-nonsense guides to providing a rescue or re-homed dog or cat with a new life.
He has authored major pet books including 'The Family Dog book' (Collins) and the 'Encyclopaedia of the Family Cat' (Collins). The German Shepherd Dog 'Care and Behaviour' (Crowood Press) was written and fully illustrated with photographs by David. His best-selling Hamlyn books are: 'Know your dog' a big all colour-spread review of canine behaviour '500 questions CATS answers about cats and behaviour'. Just published, 2009, is the pocket book 'Games to play with dog' also Hamlyn.
David can be contacted by email at drdavidsands@aol.com
by telephone 01257 249960
Too busy to walk your dog and live in the surrounding Chorley and Preston area?
Contact Rachel @ http://www.alphadogservices.co.uk
PayPal accepted for the purchase of items on our website.